Name:
Abeni Sanaa (Ah-Ben-I Sah-Ay)
Class:Popularity:
Victories:
Defeats:
Team: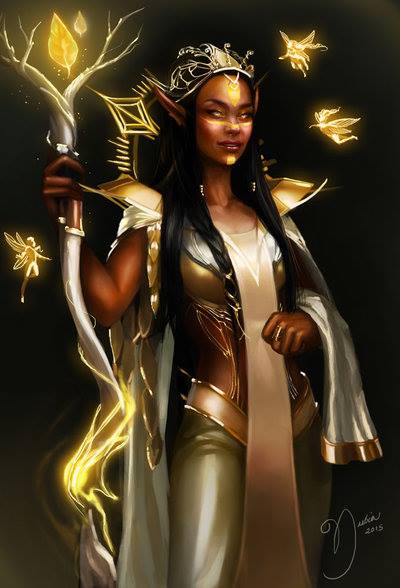 Extraordinarily refined. Grace manifested physically. Abeni Sanaa was one of the first made by the gods before man came into the picture. Longing to relive the marvelous wonder inspired by the beauty of those born of the stars, the gods set out to make her a thing of visual amazement. Abeni Sanaa was the first being intentionally made beautiful. Her intense golden eyes beamed with just as much otherworldly radiance as those born from the stars. Her skin sang of splendor only visible in a perfect night's sky. She could be said to be the prototype of feminine attractiveness. Her looks are not those that inspire jealousy in others of her gender as the air she exudes, representative of her core inner beauty is both warming and encompassing. Perhaps this is due to the godly intent that went into her forging.
Race:
Elf    
Height:
172cm or 5'8"    
Weight:
59kg or 130lbs
Biography:
Upon opening her eyes, Abeni Sanaa found herself in the presence of a beautiful world. This beautiful world looked back at her with just as much adoration. Yet, the most beautiful thing she had ever set her own eyes on was a botanical sprite too busy doing his job to pay her any mind. She instantly fell in love. She followed the sprite six times around the globe before he finally noticed her. It was at this time she finally held his attention causing him to fall in love as well. They believed they had forever together, and so the two took things slow...very slow. They spent an epoch in each other's presence before it came time for Abeni Sanaa to sleep.  
She awoke to find herself alone in a world she was unfamiliar with. Had another epoch passed and had the world changed so much?  She soon discovered that much had happened while she slept. Most devastating, was Erto's death. At first, she was unable to understand the concept. She searched for her love, at one point studying spirituality so that she could search Hell.  Sadly, because he died before the moon was made his spirit was scattered throughout the universe.
Broken, she sacrificed her immortality. Having studied spirituality, she believed that she could escape the pull of Hell and that death would instead allow her own spirit to eventually meet Erto's once more. She caught news of the Emperor's death just as she was about to end her own life. It was rumored that the Conqueror had the power to return from death. It was at this point in time that she decided to wait and see if this rumor would prove true. If it did, perhaps he also had the power to bring back Erto.
She waited one thousand years before she decided to sleep once more.  
Emphasis:
Special Ability, Divination, Herbology, Martial Arts, Aerobatics, Mental Defense, Spiritual Strength  
Abilities:
Her most used skill is the mysterious art of divination. This was something developed naturally as she eventually realized that the universe and all within it imitate ripples on waters' surface. The smallest parts are often microcosms of the much larger whole. The things that happen out of happenstance which are most easily overlooked by others are the things which hold clues to things occurring in the grand scheme. The way leaves land in a puddle, a way pebbles lay on a surface, even the way a loose strand of hair rests on a shoulder offers advice. While the information gained isn't as exact as a vision a clairvoyant being is gifted, they can be helpful in making decisions when the choice isn't obvious, or when the choice is too obvious. This was used to locate Erto when he wandered off to perform his duty. No matter where he traveled, she always managed to find him.
Her second skill set was taught to her by a sprite responsible for the creation of many useful plants. She took to herbology quickly while learning directly from the source. She can concoct a the most useful herb mixtures while relying on the knowledge gathered from a lifetime spent learning from the proverbial god of the art. Her skills are something to marvel. She can craft healing sab capable of repairing damage that even the most well versed doctors would find impossible. She can even expertly mix common cooking herbs to create powders with psychotropic effects. She is a true master of the art able to craft a variety of different mixtures.
Her primary fighting ability allows her to project her dreams into reality. These dreams are glowing recreations from her most cherished memories with Erto: the delightful pint sized plant fairies, his helpful panthers, and the vast amount of botanical creations he designed and gave to the world. Though effortless mental projections, they function similarly to the originals in terms of usefulness. Their nature changes somewhat depending on her intentions when making them. For example, a large pod which may have originally held a developing botanical animal, may instead protect and preserve her own form. This repurposing strengthens the structure so that it may better serve the desired function. Though plant like, a creation when used like this may become bullet proof thereby protecting its contents from more than just the natural elements.
The biggest mistake one could make is assuming that a woman like her is at a disadvantage when it comes to hand to hand combat. She imagines her former love's body as her armor and fights with a level of brutality which is rarely seen, even in the most heinous wars.
Signature Techniques:
Technique Name:
Divination
Technique Effect:
The ability to sense danger using unusual means to read signs. Whether sensing winds accented with murderous intent or reading a candles' flame flicker in the presence of a threat, she is perceptive. She may not know exactly, what the danger is, but knowing that danger is present is enough to at least mentally ready herself.
Technique Name:
Love's Embrace
Technique Effect:
Her love's form is worn like armor. All mental energies go into this form, making it her most durable and powerful. While using her powers in this way, it's difficult to use any other mental projections. The form is the general shape of a large and muscular human with plant-like additions. The form stands at an impressive six feet and the musculature belongs to that of a creature that would weigh one-hundred and eighteen kilograms. There are several dozen long vines coming from the head of this form like hair and large leaf-like wings coming from the shoulder blades. There vines can be controlled like extra limbs. There are large thorns lining the forearms, elbows, shins, and collar bone.
Technique Name:
Thorned Panthers
Technique Effect:
A set of mental creations based on the form of an animalistic plant which seems to have vanished the same time as her love. These thorned panthers were almost always in the company of her love helping him carry out the duties assigned to him as a forest sprite. Thorns line their spines and tails and bark like protrusions line their prominent musculature like a form fitting armor.  They take on the other physical characteristics of panthers.
Technique Name:
Radiant Pods
Technique Effect:
Imitation botanical creations mentally projected. The pods act to envelope objects either containing them or protecting them from things on the outside.
Technique Name:
Field of Brilliance
Technique Effect:
These mentally projected botanical forms are numerous and take on a multitude of shapes: ivy, lily, evergreen, bamboo, and many more. All of them are the best air producers and filtrators offered by the plant kingdom. The area affected by this radiant projection is instantly purified of any airborne toxins and breathable harmful material: gas, smoke, viruses, etc.  
Technique Name: Healing Salve
Technique Effect: Sap from a rare immortal tree that feeds on the dead is combined with common herbs expertly blended. This salve instantly stops bleeding from even the most intense wounds soothing the most painful injuries. It also purifies by attracting trapped toxins and poisons. Longer applications completely repair damage that even cutting edge medical science has difficulty with. This repairs damage on the cellular level. The longer the application stays in play, the stronger the effect.
Technique Name: Sleeping Dalia Powder
Technique Effect: Made from the sleeping dalia flower and other plants. This changes brain chemistry. The sleeping dalia is a flower that closes its bud and shuts down all activity in the absence of sunlight. This does the same thing to those with brains decreasing their sensitivity and even their ability to process visual stimuli. Grogginess, blurred vision, and eventually sleep occur for those who are not in the presence of sunlight.
Weapons and Equipment:
Sacred Items: